A passion
So intense it consumes everyone in its path, a unbelievable thought of knowing anything but such a dramatic feeling. Unsure of if it was light, or dark, cold or hot. Familiar feelings grew distant, time became irrelevant. For a passion so rare became the appetite for the entire being and she wanted nothing more.
Im socially awkward.
My world is getting put back together one continent at a time.
You have always been you, it isn't my place to tell you how to be. It's not my job to teach you right and wrong. I don't have the right to change a single human being.
I can handle it. Most of it.
"I love you my darling, your my life. Ill always love you my sweet girl, for the..."
I released myself from you with, no hate. no jealousy. no regrets involving us. but with love and compassion. You are so very loved by me. No longer do I belong to you. IM FREE
I do what I feel, no thinking. Feeling, with nothing at all. Happiness opens up everything else.
Today
I hugged the sun, embarrassed myself by dancing in the sun rays, laughed at life, and loved myself for just being.
I can't do this anymore.
It hurts too bad, too often. I'll love you always.. however loving someone doesnt mean they are meant to be. I'll always love you.
Basically, I wish that you loved me
I wish you had a favourite beauty spot That you loved secretly 'Cause it was on a hidden bit That nobody else could see Basically, I wish that you loved me I wish that you needed me I wish that you knew when I said two sugars, Actually I meant three I wish that without me your heart would break I wish that without me you'd be spending the rest of your nights awake I wish that...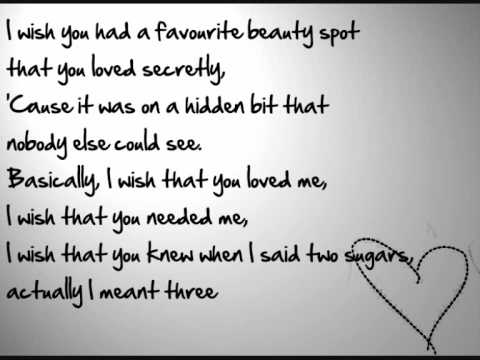 I've never
Felt like this before. She had a boyfriend, why did she have to take my life.. Letting go, sadly.
I guess
I should stop Texting you. Calling you. Missing you. Talking about you. Thinking about you. Loving you..
all time favoritee movie quote
Hell, I've always been old Ben. Ya' know what though, I don't mind. I mean if my muscles ache, it's because I've used 'em. It's hard for me to walk up them steps now, its 'cuz I walked up 'em every night to lay next to a man who loved me. I got a few wrinkles here and there, but I've layed under thousands of skies with sunny days. I...
Stephen Hawking
"One can see from space how the human race has changed the Earth. Nearly all of the available land has been cleared of forest and is now used for agriculture or urban development. The polar icecaps are shrinking and the desert areas are increasing. At night, the Earth is no longer dark, but large areas are lit up. All of this is evidence that human exploitation of the planet is reaching...
I am
getting a little bit stronger every second that the memories seep through my mind, I am slowly packing them away in my heart. I am better off without you, I deserve what I thought you were and so much more..
To
take arms against a sea of troubles, And by opposing end them? To die: to sleep; No more; and by a sleep to say we end The heart-ache and the thousand natural shocks That flesh is heir to, 'tis a consummation Devoutly to be wish'd. To die, to sleep;
it hurts
everyday and every second in between… I long for the familiar touch, of you. You use to tell me I was your world, but yet I deserve only "to desi, i dont know what to say, I am sorry" but other people get more? Doesnt make since and I guess to me it never will… I cry every single day.. and if its not through tears its through actions. My heart shivers, for warmth of...
there was just something about him.
I first saw him sitting on a curb and chelsea said "poor tom" because they were supposed to come over that night, but instead they got arrested. I remember she was driving, and I turned my head quickly to take a long glance at him. I met him when he came over to hang out with Amanda. They played darts.. as I thought to myself "why does amanda get all these cute guys to like...
I feel a loss
to something I knew to well, I felt pain to start to rip from your grasp, I felt love when I heisted to let you go. I felt a part of me die, when you died to me
you were gone,
leaving me in a complete trance… I believed for one split second. I was enough, but then I learned…I never will be enough to entertain a boys heart, for I am only unfortunately, me.
And all at once..
you were gone.
I tried to give you
a good valentines day. But I guess… "There's no winning with you"
ill always love you,
always. no matter what. if we are 10 miles away or 6,000,000 away.. I will always love you.
Highschool,
Can't end yet. because I fear of losing you… I fear that you will go back and leave me behind. I fear that I wasnt enough to keep you around.. I fear that i'll never have anyone like you ever again.. I fear that i'll be lost without you guiding our way… I fear that I love you to much to let you stay.
I wish
I was that sweet beautiful girl that everyone wanted to be.
The many
things you were supposed to be to me. All getting crushed and destroyed. falling out of love with me because i'm "still crazy" hmm… cute tom!?If I had never delt with pain this may have been difficult. but nopee easy as pie. ALL GUYS ARE THE SAME NO EXCEPTIONS
*
who wants to explore life's gravitational pull among so many other impossible things. To breathe in and inhale everything hurting you. To be able to swallow your pain and devour you fears whole. I long to feel something embrace my body and allowing my inner secrets to come out. the dark secrets are full of me.. only me. I long for Somebody to be able to know who I am! I long to be cherished among...
You
Never told me I was pretty, never held me close, Never understood, never took the time, Never thought about me, never realized how fragile I was, Never cared that I was breaking inside, never loved me. Never thought I'd find someone who… told me I was pretty, held me close, understood, took the time, thought about me, realized how fragile I was, cared that I was breaking...
Being able to grow
and see the difference between who i am now, and who I was before is a wonderful experience. I am not ashamed of who I was, I'm more disappointment.. through words its hard to understand.. but through my eyes its obvious.
Why is it
that we have people making hundreds of millions of dollars a year, and there are still starving little children in America? If someone could give me a rational reason for this id be forever thankful. Is it because people don't understand the hunger and the need for food and love? Do people forget about whats important?
mmmm...
grandma's spaghetti. something i'll never forget.